binoculars and surveillance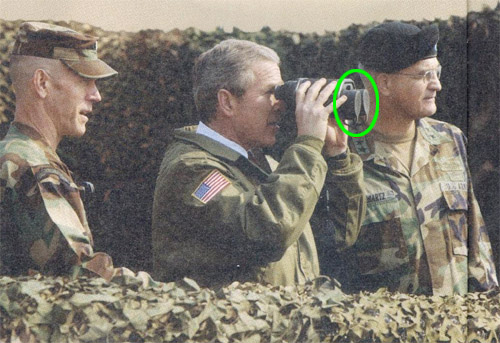 Though they are often associated with attending operas, watching birds and other harmless recreational pursuits, binoculars are also military tools of televisual ("long distance") surveillance. Especially when used from elevated positions -- rooftops, hillsides, blimps, helicopters and planes -- binoculars can so enhance the performance of "the naked eye" that it can see places, objects and behaviors that wouldn't normally be visible.
Typically, case law is divided on the subject of whether police officers need a search warrant before they can use binoculars in surveillance activities. If the binoculars are used from within or atop a building or from a hillside, then a warrant is necessary: see People v. Arno (1979) 90 Cal.App.3d 505 (in which the court ruled that the police's binocular-assisted surveillance was illegal because "the activity seen through [their] 10-power binoculars within Suite 804 was not observable to anyone not using an optical aid"); and Cooper v. Superior Court (1981) 118 Cal.App.3d 499 (in which the court ruled the officers' use of binoculars was unlawful because it permitted the police to see details that could not have been seen by the naked eye: e.g., the precise features of certain gold objects, which revealed that these objects were jewelry).
But a warrant is not needed if the police use their binoculars while flying in a helicopter, with the proviso that the police are, of course, flying that very helicopter in a manner consistent with the law (appropriate height, no "buzzing" or lingering): see People v. Joubert (1981) 118 Cal.App.3d 637, 646 (in which the court ruled "[A] binocular aided aerial examination from a lawful altitude does not infringe on a property holder's constitutional right of privacy"); and Burkholder v. Superior Court (1979) 96 Cal.App.3d 421 (the court believed the deputy when he "testified that his use of the binoculars simply aided his visual observations by providing greater detail").
Police officers flying in helicopters also don't need warrants for using map-making cameras that are equipped with telephoto lenses (see Dow Chemical Co. v. United States (1986) 476 US 227, 238) or for using special binoculars ("gyrobinoculars") that stabilize the view (see People v. St. Amour (1980) 104 Cal.App.3d 886). It appears that, based upon Oregon v. Wacker (1993) 317 Or. 419, 429 -- in which the court ruled that no reasonable expectation of privacy existed when police officers used night-vision binoculars to observe narcotics activity inside of a car that was parked in a public lot, where other people were walking and could also have observed the alleged activity -- police officers wouldn't need a warrant to use night-vision binoculars during one of their helicopter patrols.
---
By e-mail SCP@notbored.org
By snail mail: SCP c/o NOT BORED! POB 1115, Stuyvesant Station, New York City 10009-9998
---