Boeing, Insitu to build unmanned plane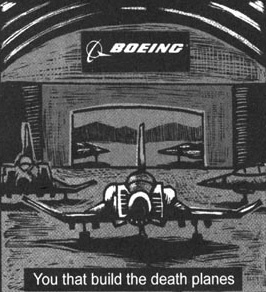 The Boeing Co. and The Insitu Group expect to begin producing small, unmanned aircraft by early next year for use by military or commercial groups under a new long-term contract, the two companies said yesterday. Insitu of Bingen in Klickitat County will be responsible for building the ScanEagle, a 4-foot-long robotic unmanned aerial vehicle, or UAV, that can carry cameras and other equipment to conduct surveillance and for transmitting data from one point to another.
The contract, which could last for 10 years, follows an agreement from last year in which Insitu developed a prototype for Boeing. Insitu is to deliver three prototypes to Boeing in the next several weeks. Financial terms were not disclosed.
The ScanEagle is one of many UAVs under development by various companies for surveillance, communications and other purposes. Insitu's aircraft, made of carbon fiber composites, has a wing span of about 10 feet. With cameras, communications and other gear, the UAV weighs about 33 pounds.
Insitu, which has 23 employees, may add workers as the companies sign on customers, said Steve Nordlund, vice president of business development. Insitu will handle production of the aircraft, but will incorporate Boeing's systems integration, communications and payload technologies.
Although Boeing would not disclose potential customers, Boeing spokesman Chick Ramey did say his company has demonstrated the UAV for the U.S. Navy and others. The ScanEagle has several possible uses for military and commercial uses, Ramey said. The UAV will cost between $50,000 to $100,000 each, he said.
(Associated Press, 8 July 2003.)

---
NEW ORLEANS The U.S. government is looking into putting video cameras on commercial flights so people on the ground can monitor pilots and passengers and get an early warning of hijackings or other trouble on board. The Boeing Company equipped a Boeing 737 with seven cameras that transmitted images of the cockpit and cabin to the ground to demonstrate a satellite system to Federal Aviation Administration officials in two test flights early this year. Pilots oppose efforts to put cameras in cockpits as an infringement of their authority. Passenger advocates have supported cameras as a way to prevent terrorist acts.
(Associated Press, Saturday, 4 October 2003.)
---
By e-mail SCP@notbored.org
By snail mail: SCP c/o NOT BORED! POB 1115, Stuyvesant Station, New York City 10009-9998
---