Citizen K
The Lunatics of Ztohoven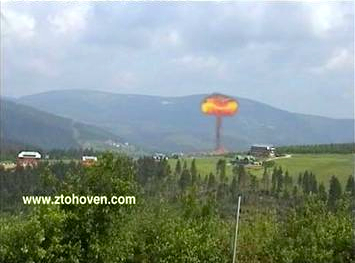 Almost all young Czechs support the mushroom-cloud operation conducted by Ztohoven in 2007. The Prague-based collective of artists has recently caused a new commotion with its new film, Citizen K, an artistic performance realized with false identity papers.
On 17 June 2007, a horrific vision was offered to the viewers of the Czech morning program Panorama: instead of idyllic hills, the image of a mushroom cloud was broadcast by a weather camera installed in the Krkonoše mountains, which caused a brief moment of panic in a country that is regularly agitated by debates on nuclear power. The panic wasn't justified. Calm rapidly returned when the fraud was discovered: not a nuclear catastrophe, but a video-hack orchestrated by the Prague-based artists in Ztohoven.[1]
It is difficult to find a Czech, especially among the young people, who hasn't heard of the "atomic explosion" of 17 June 2007. Made up of twenty members, the group was already known due to their other surprising and effective artistic projects. But none of those projects, even the famous heart-shaped projection on the Prague Château when President Václav Havel left office, had caused so much controversy.
When people speak of Ztohoven these days, they speak about their new project, Citizen K. This is a film that will be screened in Czech cinemas in January. It's title, Občan K., is a bit of bravura that loans itself to many interpretations. It evokes the bureaucratic labyrinth with which Josef K, the famous protagonist of Kafka's novel The Trial, finds himself confronted; the cult film Citizen Kane; Václav Havel, whose political career was the subject of a documentary titled Občan Havel; and, of course, the Czech word občanka, which is short for Občanský Průkaz (the Czech identity card).
The film comes from an artistic project in which two members of Ztohoven demonstrate in an incredible way the absurdity of the Czech bureaucratic system. In 2010, both of them usurped the same identity for six months: the identity of an individual who never existed! With the help of biometric technology, they combined their two faces and thereby created a new person, whose identity allowed them to procure a perfectly legal passport, to vote in an election, get married and obtain a permit to carry a firearm. This is the first time since the mushroom cloud affair that a project by Ztohoven has provoked as much indignation as fascination: it even caused the arrest of one of the project's initiators, David Hons, alias Roman Týc.
This ability to divide public opinion has to do with their impressive manner of promoting themselves: though their performances often take place in public, the members of the collective – with the exception of co-founder David Hons – manage to keep their anonymity. When they appear in public, they always use pseudonyms that are obviously not real names. They are always plays on words that mix English and Czech: for example, Roman Týc is "Romantic," Dan Gerous is "Dangerous" and Anna Bolická is a reference to anabolic steroids.
But even if they use pseudonyms, the artists in Ztohoven scorn journalists. Few have managed to meet one or several of them in person. My written requests for an interview went without response. And my attempts to reach them through the telephone numbers listed on their website weren't successful either.
Klára Bulantová has followed the reaction of the authorities to Občan K. She says that, "in a liberal and democratic society, it shouldn't happen that someone is in custody for an artistic performance, such as the one by Týc. What's worse is that his is not an isolated case."
This political science student has an overall view of Ztohoven's "style." She says, "I do not know all of their projects, but among the ones that I know, I prefer the one called Violated Consciousness. In 2003, in the space of a single day, they covered all the illuminated advertisements in the Prague metro system with their own posters. I find the other projects of Ztohoven to be original, but, to me, they are often performances for the sake of performances. But this is the vicious circle in the evaluation of art."
Adela Zichačková, 23, believes certain positions taken by the group to be "naïve, immature and childish," but nevertheless on the whole approves of Ztohoven's projects.
"You can thank them for having opened the discussion about this question," she says. "Moreover, I find the forms of expression chosen by these artists to get their message through to be very pertinent."
She finds it scandalous that Roman Týc has been treated like a criminal. "They are objecting to artistic freedom and freedom of speech!" she says.
This is a point of view shared by another resident of Prague, a film student who wished to remain anonymous. "It would be really frustrating if no one rebelled against the system; no matter how lame, ridiculous or simplistic that rebellion is," she said. "Today, if you want to get the public's attention, you have to do actions that create a polemic. That is exactly the reason why subversive art is successful!"
[1] Translator: in Czech, Ztohoven means "a hundred pieces of shit."
(Written by Isabelle Daniel in German; translated into French by Nospaiens and published on 17 January 2013 by Café Babel. Translated from the French, with recourse to the German, by NOT BORED! 20 January 2013.)
---

To Contact NOT BORED!
Info@notbored.org